January 24th, 2009 par diogenis
Let's start the new year with a new song, Tolstoi, available on our MySpace and pictures from our last gigs. And to continue this promising start, we will play Friday 13th February at Soudcafe in Munich.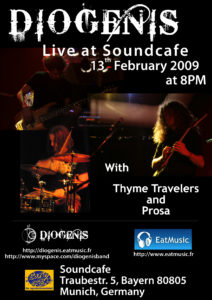 For this year's second concert, we were free to choose the other bands who will play with us. We hope that you will be numerous again to support us.
Envoyé dans Concerts, News | Pas de Commentaires »